C

olour! The first chapter of Joan's book, which she started writing in her early 60s, was titled "A Cot with a View". This exclamation was the first word, sentence, and paragraph in the book of her life.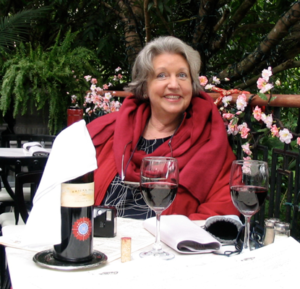 Joan readily admitted that she lived life in Technicolor. Forged from adversity, she had polio at 13, and as an only child, she tragically lost her mother while she was still a teenager. She married twice, divorced twice, and raised two boys alone, providing them with a private school education and a boys-own-adventure childhood. In her mid 30s with her boys under the age of 10, she made her way to Adelaide – her chosen city – where she remained for the next four decades. She worked hard, diligently and honestly, and was frugal with her budget.  Joan pursued several careers; secretarial, human resources management, training and development, and real estate.
Relationships defined Joan. Her two boys were always her priority and she consistently told them how much she loved them. She gave her spare time to her friends. Jolly Joan, as a school friend described her, had a wacky sense of humour and told wonderful stories in clear and grammatically correct English. For years she volunteered many long nights as a Life Line counsellor. In times of crisis, she would listen with a consoling ear and be the first to make a hospital visit to a friend, or turn up on the doorstep with homemade, practical, ready-to-cook meals. She looked after her aging father and described it as a privilege to be by his bedside when he passed away.
Joan had many loves: Shakespeare; literature; live theatre and the arts; domestic cats; colourful gardens; and houses. In her adult lifetime she bought, renovated and sold 12 homes in which she lived. One of these she designed and had built while still in her early 30s working full-time as a single mother. She bought, renovated and sold an additional six investment properties.
Joan's golden years were in retirement when she grew into herself, could do the things she wanted to do, and could be the person she wanted to be. Her life remained busier than ever with annual theatre subscriptions, multi-month trips to Europe or catch up feasts with friends. She spent three years studying at university, lapping up the experience to be awarded a Bachelor of Arts degree in History and Classics. She was proud that she was invited to do honours but declined the offer. Joan began writing a book, but was always happily distracted with a new house to look at or a luncheon to organise.
I walk into a room full of static elderly people and see Joan gazing blankly into the middle distance. I visit often and some of her companions recognise me. They say, "Joan, your son is here." She notices someone is there and looks up, staring without blinking. I smile, take her hand, kneel down and say "Hello." I help her as she struggles to her feet and says in a soft voice, "What are you doing here?" I answer, "I've come to visit you Mum. Shall we go for a walk?" "Yes, let's go", she says. We shuffle along to a quiet alcove. She can no longer hold a conversation as her dementia has destroyed most of her memory and cognitive capacity. She speaks slowly. For the safety of staff and other residents, drugs control the emotional outbursts and physical aggression associated with her condition. I sing her the songs she sang to us as children. She smiles as she remembers some of the words and happily sings along with me. I cannot remember the last time I heard her hearty laugh but she is always happy when I am with her. We walk a lot together, doing laps of the garden. Leaving is emotionally difficult, as she doesn't want to see me go. The carers in the five-star, high-care, memory-assisted wing are saints. They quickly distract her with another activity, "Joan, come, look what we have here", and soon she has forgotten I was there. While she lives in a confusing and grainy monochrome world, I look into her soft blue eyes and remember an enthusiastic, vibrant, and wise lady who brought love, laughter, compassion, and colour to so many lives over so many years.
Joan's story was written by her son, Rob.