T

he Book Club is a place to engage with others who are living with, or who have in some way been touched by, Alzheimer's disease. It is an inclusive place for everyone to share books they've found useful, inspiring, or even challenging. They can be, for example, to do with Alzheimer's, brain health or neuroscience in general. Let's play it by ear and see what books stimulate the most discussion and interest.

As a starting point, I will nominate a book every few months to stimulate discussion, but anyone is welcome to make suggestions. I don't want to impose restrictions for the types of books we can discuss, but suggestions could include the following genres:
Popular science
Scientific
Literary fiction
Self-help
Inspirational and motivational.
What We're Currently Reading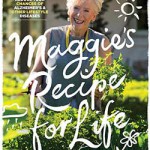 With the official launch of Decoding Alzheimer's this month, I'd like to kick off our Book Club with discussions about something most of us like to talk about – food! Australia's favourite cook and food author, Maggie Beer has teamed up with world-leading Alzheimer's scientist, Professor Ralph Martins, to fight Alzheimer's disease. Based on the latest scientific research, Maggie has created more than 200 delicious recipes that help provide the nutrients we need for optimum brain health and to help reduce our chances of developing Alzheimer's and other lifestyle diseases. The good news is that we can eat well to age well, from this moment on.
Join the conversation now at the 
Decoding Alzheimer's Book Club
 at Goodreads. Everyone is welcome!
About Maggie and Ralph …
Maggie Beer's many cookbooks include Maggie's Harvest, Maggie's Kitchen and Maggie's Verjuice Cookbook. As well as overseeing Maggie Beer Products in the Barossa Valley, SA, Maggie appears as a judge on The Great Australian Bake-Off and heads up the Maggie Beer Foundation committed to providing a good food life for all
"This is not a diet book – it's a way of life."
Professor Ralph Martins is Professor of Neurobiology at Macquarie University and Foundation Chair in Aging and Alzheimer's Disease at Edith Cowan University, both in Australia.
"I think we all want to live a full and productive life, feeling energetic well into our old age. This is not just wishful thinking – you have the power to give yourself the very best chance of a healthy future."
Don't have a copy? You can purchase through Amazon and help support our research
The proceeds from Maggie's Recipe for Life will be shared between the Lions Alzheimer's Foundation, which supports equipment and Alzheimer's research, and the Maggie Beer Foundation, established to engage and educate cooks and chefs in the aged care sector to ensure residents in aged care have access to fresh, wholesome, seasonal food, abundant with flavour.